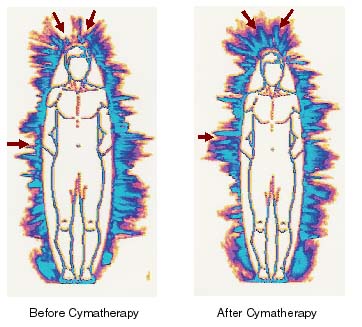 16 Apr

Research Update on the Sound Techniques of Cymatechnologies
Research Update on the Sound Techniques of Cymatechnologies
The Cyma 1000 cymatechnologies Device Successfully Trialed on Thoroughbred Racehorses
From June 19 to 25, 2005, Dr. Anthony Fleming will attend the 27th annual meeting of Bioelectromagnetics Society (BEMS) in Dublin. Dr. Fleming will present findings of an acoustic therapy device, the Cyma 1000, successfully trialed on thoroughbred racehorses. The work presents the photon and the phonon as two particles having the same structure, but a different propagation vector. The phonon is orthogonal to the photon of equivalent energy. The phonon has the important advantage of being able to penetrate far deeper into biological tissues than EM radiation. Delivery of precise frequencies enable control over the DNA bases during replication. This can be used to promote healing within injured tissues. The method is a generic process for a number of different important therapies.Read the paper
Case Study: the Efficacy of Equine Cymatechnologies Bioresonance on a Superficial Digital Flexor Tendon Core Lesion of a Thoroughbred Racehorse Colt
Learn more about cymatechnologies and our equine friends in a recent case study that describes a rapid rate of tendon healing in a thoroughbred race horse that was treated with Equine cymatechnologies Bioresonance. The authors conclude that in this case "Equine cymatechnologies Bioresonance treatments have surpassed any standard veterinary treatment of the SDFT [superficial digital flexor tendon] injured horse by approximately 5 to 22.5 months ahead of any known standard treatments provided in the literature." Read the study
Energy Map
We recently received some preliminary results using gas discharge visualization (GDV) techniques to chart the effects of a cymatechnologies treatment.
The image on the left shows a GDV analysis of a test subject before the cymatechnologies treatment. The image, called an energy map, shows that the two most depressed systems of the subject's body were the liver and pineal gland, noted by the red arrows on the GDV energy map.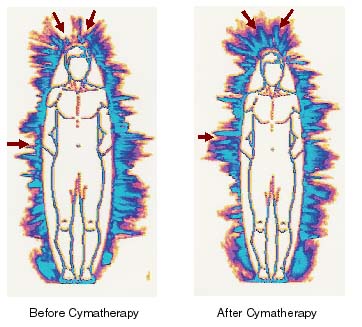 The image on the right was taken with the GDV instrument immediately following a cymatechnologies treatment. This energy map shows significant changes in the liver and pineal areas, as noted by the red arrows.
This GDV analysis was made possible by the generosity of time, labor and laboratory equipment of Stuart Grace.
Images ©2003 Stuart Grace.